When it comes to dining options in Wildwood, New Jersey, there are several outstanding restaurants that offer a range of culinary delights. Whether you're craving fresh seafood, classic American fare, or international flavors, Wildwood has something for everyone.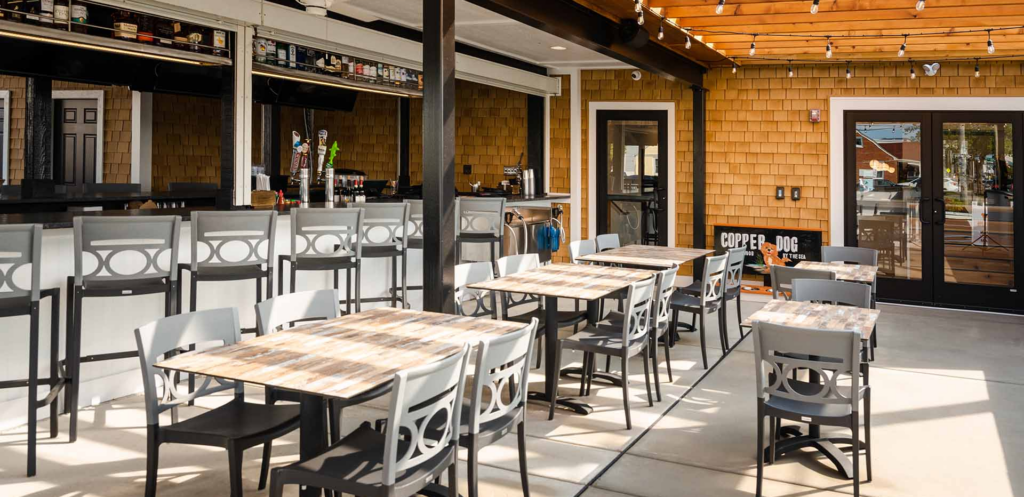 The Copper Dog
Currently our favorite new restaurant — a must-visit destination in Wildwood, NJ.
If you're looking for a delicious meal and a cozy atmosphere, look no further than Copper Dog Restaurant in Wildwood, NJ. The restaurant's interior is warm and inviting, with modern decor and dim lighting that creates a relaxed ambiance. The friendly staff is always ready to greet you with a smile and make you feel at home.
But let's talk about the food. Copper Dog Restaurant offers a diverse menu that caters to all tastes. From seafood (great sushi!) to steak, pasta to sandwiches, there's something for everyone. Their burgers are excellent! Made If you're in the mood for seafood, the crab cakes are a standout dish. Made with lump crab meat and served with a side of remoulade sauce, they're crispy on the outside and tender on the inside.
If you're looking for something lighter, the salads are fresh and flavorful. But it's not just the food that makes Copper Dog Restaurant special. They also have an extensive drink menu featuring craft beers, cocktails, and wine. The bartenders are skilled at mixing up creative drinks that perfectly complement your meal.
And let's not forget about dessert! The homemade desserts are the perfect way to end your meal on a sweet note. The chocolate cake is rich and decadent, while the apple crisp is warm and comforting.
Overall, Copper Dog Restaurant is a must-visit spot in Wildwood, NJ. With its cozy atmosphere, friendly staff, diverse menu, and delicious food, it's the perfect place to enjoy a meal with family and friends. Be sure to check out their website at https://copperdogwildwood.com/ for more information and to make a reservation.
Other Great Restaurants
Here are some of the best restaurants in Wildwood (in no particular order):
The Establishment at 100: Located on Pacific Avenue, The Establishment at 100 is a modern and upscale restaurant that offers a refined dining experience. With a focus on using locally sourced ingredients, their menu features creative American cuisine with a Mediterranean twist. The restaurant has a sophisticated ambiance, attentive service, and a carefully curated wine list.
Little Italy Restaurant: If you're in the mood for Italian cuisine, head to Little Italy Restaurant. This family-owned establishment has been serving delicious Italian dishes for over 40 years. From traditional pasta dishes and wood-fired pizzas to veal and seafood specialties, their menu is sure to satisfy your cravings.
Urie's Waterfront Restaurant: Overlooking the beautiful bay, Urie's Waterfront Restaurant offers a delightful dining experience with stunning views. They specialize in fresh seafood and offer a diverse menu featuring dishes like crab cakes, lobster bisque, and grilled fish. The restaurant also has a raw bar and an extensive wine list.
Dogtooth Bar & Grill: Known for its contemporary American cuisine, Dogtooth Bar & Grill is a popular spot for both lunch and dinner. They offer a range of options, from juicy burgers and sandwiches to fresh salads and seafood dishes. With a lively atmosphere and a wide selection of craft beers, it's a great place to relax and enjoy good food.
Owen's Pub: For a cozy and welcoming atmosphere, Owen's Pub is a top choice. This Irish-themed restaurant serves classic pub fare with a twist. Enjoy their delicious fish and chips, shepherd's pie, or bangers and mash while sipping on a pint of Guinness. They also have a wide selection of craft beers on tap.
Rick's Seafood House: Another fantastic seafood option in Wildwood is Rick's Seafood House. With a focus on locally sourced ingredients, they offer an array of seafood dishes prepared to perfection. From clams and oysters to scallops and crab, you'll find a wide range of options to satisfy your seafood cravings. Note that you can only order pick-up items here.
The Jellyfish Café: Located on Pacific Avenue, The Jellyfish Café is a charming breakfast and brunch spot in Wildwood. Known for their creative menu options and fresh ingredients, they serve a range of dishes, including pancakes, omelets, sandwiches, and salads. The café has a relaxed beach-inspired vibe, making it a perfect spot to start your day.
Beach Creek Oyster Bar & Grille: Situated on Rio Grande Avenue, Beach Creek Oyster Bar & Grille is a waterfront restaurant offering a picturesque setting for a memorable dining experience. Specializing in seafood, they serve a variety of dishes, from raw oysters and clams to grilled fish and lobster. The restaurant also has a lively bar area and outdoor seating options.
These are just a few of the best restaurants in Wildwood, NJ. Whether you're looking for seafood, Italian cuisine, American classics, or a taste of something different, Wildwood's vibrant culinary scene is sure to please any palate.