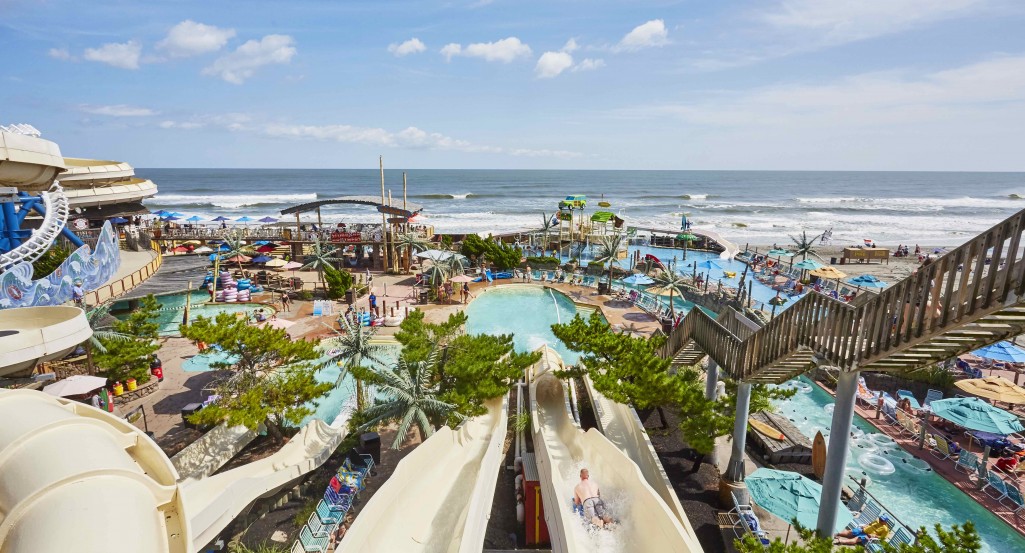 Morey's Piers, located in Wildwood, New Jersey, is a coastal wonderland that has captivated the hearts of locals and tourists alike for generations. Established in 1969 by brothers Bill and Will Morey, this family-owned and operated amusement park stretches across 18 acres of the Wildwoods' beach and boardwalk. With over 100 unique rides, attractions, dining options, and aquatics facilities across three separate piers – Mariner's Pier, Surfside Pier, and Adventure Pier – there is truly something for everyone at this seaside paradise.
At Mariner's Pier (originally the first pier created), guests are welcomed by a striking entrance adorned with twinkling lights and a vibrant carousel. Whether seeking adrenaline-pumping thrill rides or immersive family-friendly experiences, Mariner's Pier has it all. Don't miss your chance to ride the legendary Giant Wheel; standing proud at 156 feet tall, the breathtaking aerial views of the Wildwoods shoreline are unbeatable. For those looking for excitement that keeps their feet on solid ground, navigate through Mariner's Maze or challenge opponents at Wacky Golf.
Surfside Pier offers an exciting blend of rides intermingled with arcade games and carnival-style attractions. Featuring unique sights like the SkyCoaster – a breathtaking combination of skydiving and hang-gliding – Surfside Pier presents an unforgettable experience. Don't forget to satisfy your appetite with some scrumptious treats from Curley's Fries.
As the name suggests, Adventure Pier takes thrill-seeking to a whole new level. For fans of high-octane activities, buckle up for an exhilarating ride on The Great White—a wooden roller coaster reaching speeds of over 50 miles per hour along a space measuring nearly 3,400 feet long! Or experience free-fall madness on the 125-foot tall AtmosFEAR ride. For those with a more artistic streak, visit the unique ArtBOX—an artist colony nestled within repurposed shipping containers—showcasing 15 local artists mingled with a morass of diverse culinary delights.
While Morey's Piers is synonymous with fun and excitement, water enthusiasts can also make a splash at one of the two incredible waterparks: Raging Waters or Ocean Oasis. Raging Waters, located at Mariner's Pier, is famous for its themed attractions such as River Adventure (a tropical white-water rafting experience) and the heart-stopping Shotgun Falls. Meanwhile, Ocean Oasis beckons guests to unwind at the private cabanas nestled in lush landscaping, indulge in its world-class restaurants, or interact with native wildlife at the Bonsai Beach exhibit.
In addition to its impressive repertoire of extraordinary attractions, Morey's Piers is an environmentally responsible enterprise with a commitment to sustainability. The park employs energy-efficient LED lighting across the piers and promotes resource conservation by recycling over 50,000 gallons of water per day.