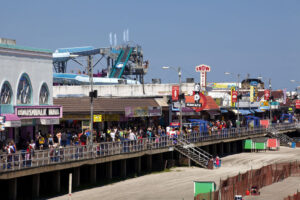 The Wildwood Boardwalk is a 38-block boardwalk in Wildwood, New Jersey. It features on-site dining, shops, water parks, hotels, a convention center, entertainment venues, and two amusement parks¹. The boardwalk is packed end-to-end with shops, waterparks, eateries, entertainment and amusement piers with over 100 rides and attractions³. The sights, sounds and smells of the Wildwoods Boardwalk are just pure sensory overload! ³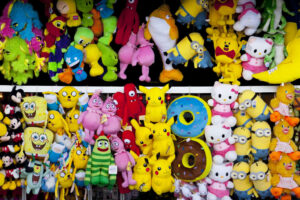 The boardwalk has a rich history. In 1903 Wildwood's leaders decided to provide a wide, elevated walkway closer to the ocean. It connected with Ocean Pier, the first amusement pier to be opened, at Poplar Avenue. During the first decade of the 20th century, the boardwalk spread across the shoreline, from Second Avenue in North Wildwood to Cresse Avenue in Wildwood¹. Another boardwalk from Cresse to Aster Road in Wildwood Crest washed away in 1909 and was replaced by Seaview Avenue¹.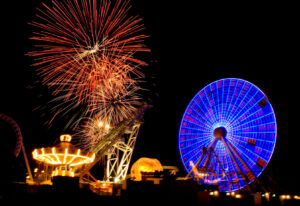 The Wildwood Boardwalk is home to many attractions including the beach, boardwalk, amusement piers, waterparks, aquariums, lighthouses and museums⁵. The amusement piers and waterparks offer thrill and fun for all ages. The aquarium allows visitors to see and feed various wildlife including piranhas, sharks and stingrays. The lighthouse is a historic and picturesque landmark with extensive gardens. The museum showcases the 1950s and 1960s American architecture and culture⁵.
If you're interested in reading more about the Wildwood Boardwalk and its attractions you can check out this blog post ⁵. Enjoy!
Sources:
(1) Wildwood, New Jersey – A Visitors Guide. 
(2) Wildwoods Boardwalk – Cape May Experiences and Activities. 
(3) Boardwalk – The Wildwoods, NJ.
(4) The Best Summer Fun At The Wildwood New Jersey Boardwalk. 
(5) Wildwood Boardwalk – What to Know BEFORE You Go (2023) – Tripadvisor.
(6) THE 10 BEST Things to Do Near Wildwood Boardwalk, NJ.